NEWS
Congolese refugees brave lions to flee
Congolese refugees line up to register at the United Nations High Commissioner for Refugees holding center in Ishasha on the Congo and Uganda border, November 27, 2008. Photo/REUTERS
Posted Monday, December 1 2008 at 17:53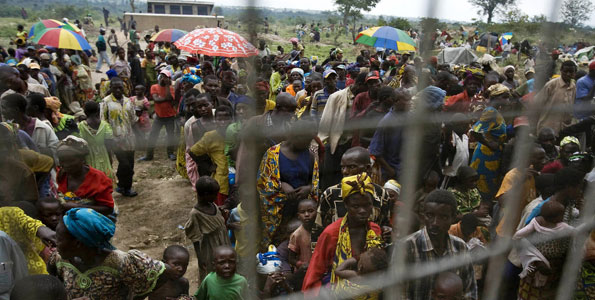 ISHASHA, Monday
Tree-climbing lions are among the perils facing thousands of Congolese refugees as they flee into neighbouring Uganda to escape a new upsurge of fighting.
The route to sanctuary leads through the rugged Virunga and Queen Elizabeth National Parks, prowled by a group of lions famed for hiding in trees, leopards and other dangerous beasts.
Mr Katsuva Paluku, the head a family of four that straggled into the refugee camp at Ishasha from Rutshuru in Democratic Republic of Congo, said two women vanished in the park.
"We fear they've been eaten by lions," the 33-year-old told Reuters. "When people move in small groups of three or four, the lions don't spare them. What we did was to wait for other families and then walk in a big group of 30 or 40."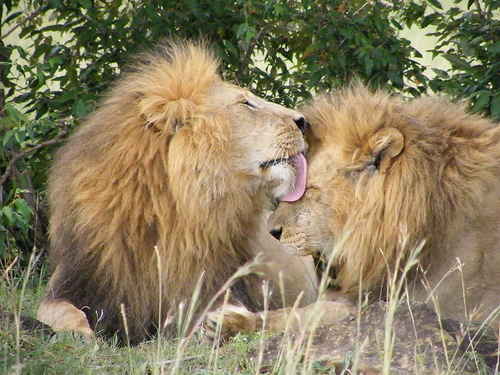 Forces loyal to Congolese Tutsi rebel leader General Laurent Nkunda launched a new offensive in August, routing government troops and seizing swathes of territory in North Kivu province.
Although he declared a ceasefire last month, his men have continued attacking Congolese and Rwandan Hutu militia allies of the government. Gen Nkunda says some of the Hutus were involved in Rwanda's 1994 genocide of Tutsis.
Scores of Congolese policemen are among more than 15,000 people who have fled across the Ugandan border in recent days. At least they had vehicles to flee in and assault rifles to fend off any hungry animals.
Once in Ishasha, inside the park, the struggle to survive does not let up.
Ms Chantal Kavuta, a Tutsi mother of three, has to keep an eye on her children – while also pushing and shoving to get her hands on any of the food aid given out by humanitarian workers. (Reuters)
---
France calls for urgent EU talks on DR Congo force
Mon Dec 1, 5:16 pm ET
PARIS (AFP) – France called Monday for urgent EU talks on sending emergency troops to Democratic Republic of Congo , as a French minister offered Congolese President Joseph Kabila Paris' full support.
The diplomatic developments were followed by an offer from the governor of the disputed Nord-Kivu province to hold direct talks with rebel Tutsi leader Laurent Nkunda , which received a muted response given his demand to meet with Kabila.
"I have asked for a new round of consultations to be held urgently in Brussels, notably to examine how to respond to the United Nations' request," French Foreign Minister Bernard Kouchner said in a statement, referring to the UN Security Council's approval for an extra 3,000 soldiers on the ground.
European ambassadors in charge of security affairs will discuss the bloc's response to the DR Congo crisis at a meeting in Brussels Tuesday and Wednesday, an official from the French EU presidency said.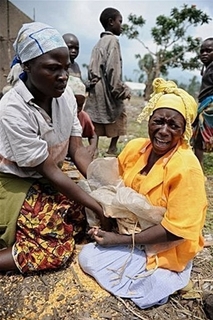 The conflict will also be discussed at a meeting of EU foreign ministers on December 8.
France and Belgium last month proposed sending troops to Nord-Kivu province to support MONUC, already the biggest UN peacekeeping mission in the world with 17,000 troops.
But other European states, including Germany, are against military input, preferring to pursue humanitarian options and political mediation.
International calls have mounted for Europe to send an "interim" security force to eastern DR Congo as thousands more fled fighting between rebels and government or Kinshasa -supporting forces at the weekend.
Former colonial ruler Belgium said Sunday that UN Secretary-General Ban Ki-moon wanted a European force to bridge the gap until reinforcements can be redeployed.
Kouchner said he had "listened with utmost attention to the call by the United Nations secretary general for an interim European Union force in Democratic Republic of Congo.
"Since the start of the crisis, I have sought for the European Union to take its full place in resolving the crisis, whether on the political, humanitarian or security fronts, including via an interim European Union mission ," he said.
After meeting with Kabila in Kinshasa, French Human Rights Minister Rama Yade told reporters that France's support for his government in efforts to quell the rebellion was unwavering.
"I underlined France's backing for the Congolese authorities and its solidarity with the Congolese people," Yade told AFP.
She stressed that Kabila's government had been legitimately elected and said the "instability" was "created by rebel groups."
In Congo, the UN mission said Monday that rebels had followed through on their offer to withdraw from the town of Ishasa, by the eastern border with Uganda .
The rebel retreat came a day after Nkunda met with UN special envoy Olusegun Obasanjo seeking ways to secure peace in the country's volatile east.
Nkunda has been holding out for direct talks with the government, which have so far been refused, but Nord-Kivu governor Julien Paluku Kahongya told AFP Monday that he would meet the rebel leader.
"I am absolutely prepared to negotiate directly with Nkunda," he said.
CNDP spokesman Bertrand Bisimwa was unmoved by Kahongya's approach.
"We would not be able to refuse if Kinshasa wants effective negotiations with us," Bisimwa said. "But all the government has to do is inform the mediators.
"Does the governor of Nord-Kivu have a government mandate? What value does a governor's word hold compared to a minister or the president," Bisimwa added.
Renewed fighting has displaced some 250,000 people.
---
Ban Ki-moon backs proposed European force for DRC
Sunday 30 November 2008
UN Secretary General Ban-Ki-moon told Belgium's Foreign Minister Karel De Gucht that he supported the idea of an interim EU peacekeeping mission until the extra 3,000 troops agreed to for the UN's MONUC force are dispatched.
(AFP) - UN Secretary General Ban Ki-moon is in favour of sending an interim European force to Democratic Republic of Congo until peacekeeping reinforcements, Belgium's foreign minister said Sunday.

The UN Security Council has approved an additional 3,000 peacekeepers for the Congo mission, but the deployment "is going to take some time," Karel De Gucht told Belgium's VRT television.

"For that reason, the United Nations hopes that an European military force could come and fill in the gap during this period," De Gucht said.

His spokesman Bart Ouvry told AFP that Ban had talked about an interim European force during De Gucht's discussions with him this week at UN headquarters in New York.

The UN secretary general explained that help was needed to ease the humanitarian crisis caused by the fighting between rebels and Congolese government forces in eastern Nord-Kivu province.

"The reinforcement of 3,000 soldiers is going to take several months, and in the interval Mr Ban Ki-moon thinks that an European interim force would be needed," if it could be deployed, Ouvry said.

He added, however, that Belgium would have to see how many European countries would be willing to contribute troops to such a force.

The question is expected to be taken up at ministerial talks next week at NATO headquarters in Brussels, as well as at an Organization for Security and Co-operation in Europe (OSCE) meeting in Helsinki.

Last month Belgium and France proposed sending troops to Nord-Kivu province, the central battleground of the conflict, to support the humanitarian efforts of the UN Mission in Democratic Republic of Congo (MONUC).

Belgium was the colonial power in Congo before its independence in June 1960, while France -- which holds the rotating EU presidency, and which put the resolution for more MONUC troops before the Security Council -- has a long-standing interest in central Africa.

But several EU member states, including Germany, are not in favour of military support -- preferring to back humanitarian organisations and political mediation.

Long simmering tensions between the Kinshasa government and rebels led by Tutsi ex-general Laurent Nkunda spilled over into a new conflict in August, displacing 250,000 people and creating a humanitarian disaster.

Calls for an EU force to help protect civilians in eastern Congo have also come from a group of former world leaders.

In an open letter Thursday, the group, including Nobel Peace Prize winners Archbishop Desmond Tutu and former South African president F. W. de Klerk, urged EU leaders to use their "personal political leadership" to help ease the crisis.

"The situation in the eastern Democratic Republic of Congo is a clear humanitarian catastrophe," they wrote, noting that "the peacekeeping force on the ground is currently unable to protect the hundreds of thousands of civilians at risk."

---