NEWS
Special UN envoy chastises Congo rebel leader
By ANITA POWELL, Associated Press – Sat Nov 29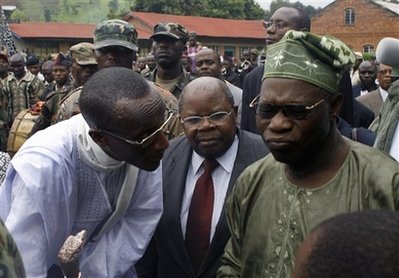 UN special envoy, former Nigerian president Olusegun Obasanjo, right, is escorted to his car by CNDP rebel leader Laurent Nkunda, left, after their meeting in Jomba, east Congo, near the Uganda border, Saturday, Nov. 29, 2008. Congo's main rebel leader asked a U.N. envoy Saturday to arrange a face-to-face meeting with government officials during a second round of talks aimed at bringing peace to eastern Congo. (AP Photo/Jerome Delay)

JOMBA, Congo – The United Nations' special envoy to Congo chided Congo's main rebel leader during a second round of peace talks Saturday for breaking a cease-fire, according to video footage taken inside the closed-door meeting.
The footage, taken by the U.N. and made available to journalists, shows an angry mediator, former Nigerian President Olusegun Obasanjo , berating rebel leader Laurent Nkunda for starting an offensive along the border with Uganda last week, thus breaking a cease-fire in the middle of peace talks.
Since the first round of peace talks on Nov. 16, Nkunda's forces have clashed with the army several times, and rebels captured two border posts and a town last week.
"You are making me a laughingstock," Obasanjo told a seated Nkunda as the Nigerian paced angrily.
"What has happened in the last 14 days has not made me happy," Obasanjo said, adding, "If there is anything that will make you make a move against a self-imposed cease-fire by you, you should let me know. When I finished my first round of talks, I reported to you. You haven't built the same confidence in me and I feel disappointed.'
But Nkunda claims the cease-fire was only meant to apply to the Congolese army. He declared a unilateral cease-fire in late October, when his forces reached the edge of the eastern Congolese provincial capital of Goma.
"We agreed for a cease-fire with government forces, not with negative and foreign forces," he said. He said he will continue on his primary mission of protecting ethnic Tutsis from Hutu fighters who fled to Congo from Rwanda after that country's 1994 genocide.
"They are not allowed to be here. No," he said. "And I have to fight them wherever I can."
The insurgents began an offensive Nov. 22 in the town of Ishasha in an effort to push some 1,500 Hutu militiamen, many of whom are believed to be Rwandan exiles, out of Congo . More than 10,000 people have fled to neighboring Uganda because of the violence.
Obasanjo and Nkunda met for more than an hour Saturday in the rebel-held town of Jomba near the Ugandan border.
Nkunda said the former president told him the government "accepted the principle" of a face-to-face meeting with Congolese officials but did not agree on where to hold the talks. Obasanjo met with President Joseph Kabila earlier this week.
Nkunda added that if the government refuses to negotiate, "they will be choosing the way of fighting. And I know they do not have any capacity to fight."
The rebels and government soldiers all are accused of grave atrocities against civilians.
Nkunda, a former general, quit Congo's army in 2004 to launch a rebellion. Critics, however, say Nkunda is more interested in power and the country's mineral wealth.
Obasanjo last met Nkunda earlier this month, when the rebel leader promised to support a cease-fire.
Some refugees already have fled three or four times since years of low-level fighting in eastern Congo intensified with a rebel offensive launched Aug. 28. More than 250,000 people have abandoned their homes since then.
On Friday, the U.N.'s top human rights official called for urgent action to stop the killing, rape and looting in eastern Congo. The U.N. Security Council also has agreed to reinforce its mission in Congo with 3,000 more soldiers and police because the current mission of 17,000 is spread too thin.