NEWS
Mia Farrow slams Western 'apathy' over DR Congo conflict
by William French William French – Mon Dec 15, 3:32 pm ET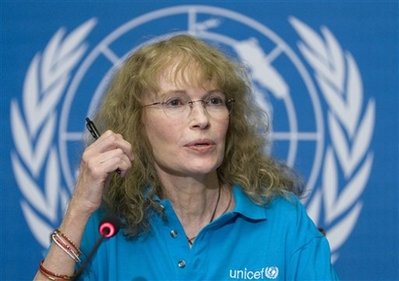 GENEVA (AFP) – US actress and campaigner Mia Farrow on Monday slammed Western "apathy" over abuses in the Democratic Republic of Congo, saying people cared more about the region's gorillas than their fellow humans.
"I think if the population in Nord-Kivu had been a population of gorillas, there would have been a solution long ago," Farrow told AFP in an interview, referring to the conflict-torn eastern region of DR Congo.
"They wouldn't have allowed this to continue if it had been gorillas. Or especially puppies."
More than 250,000 people have been driven from their homes since fighting between government forces and rebels led by former general Laurent Nkunda resumed in eastern DR Congo in August.
Earlier, Farrow told a press briefing about her three-day visit to the Nord-Kivu region as a goodwill ambassador for the United Nations Children's Fund (UNICEF), where she met many victims of the conflict including women and girls who had been raped.
"What is now unfolding in Congo is one of the worst situations I have ever encountered in my life," she said.
"Multiple armed groups are on a murderous rampage. The atrocities against women and children are massive and could scarcely be more brutal or barbaric."
The 63-year-old actress, who has also been a prominent critic of Sudan's government over its role in strife-torn Darfur, said all parties in DR Congo's conflict had committed rapes and atrocities, including rebel groups and the Congolese army.
"There is no political agenda ," she said of the mass rapes which have targeted girls as young as 10 years old.
Many victims told her of the extreme brutality of their ordeal, with attackers using rifles and bayonets in the assault and then breaking their victims' limbs.
"It seems to be a human component in the absence of order, and in an atmosphere of violence and impunity. It's deeply troubling," she told AFP.
Farrow urged world powers to send high-level envoys to DR Congo to end the conflict, building on existing diplomatic efforts by UN special envoy Olusegun Obasanjo , Nigeria 's former president .
"I would like to see the United States, UK, France, other members of the international community... I would like to see people in airplanes heading that way now to resolve this in all the ways necessary involving all the parties, all the armed groups," she said.
"It's not Sudan , there is no (Sudanese president) Omar al-Beshir, this one is doable if we have the right kind or level of commitment necessary," she said.
The United Nations has deployed some 17,000 troops to Congo as part of its MONUC operation, the world's biggest UN peacekeeping force , but it plans to send around 3,000 reinforcements, mainly from African countries.
MONUC has been criticised in some quarters for not taking a more proactive role in ending the violence, and Farrow said there was "frustration" at its shortcomings.
"I think there are lessons to be learned and improvements," she said.
At the press conference , Farrow also castigated Western public opinion for not putting sufficient pressure on governments to resolve the conflict in DR Congo, where five million people are estimated to have been killed since 1993.
"I think that there's too much apathy, countries tend to be self-serving and there isn't enough sense of outrage to produce the political will to actually provide security and protection to imperiled populations," she said.
© Congo Vision
---
Mia Farrow: Congo civilians need urgent protection
By FRANK JORDANS, Associated Press Writer Frank Jordans, Associated Press Writer – Mon Dec 15, 8:52 am ET
GENEVA – Actress Mia Farrow appealed Monday for the world to stop the rape of women and girls in eastern Congo, which she described as "one of the worst situations I have ever encountered in my life."
Farrow, who returned Sunday from a three-day visit to the African country on behalf of the U.N. Children's Fund, said she had met with refugees in eastern Congo and promised to tell their stories.
"The atrocities against women and children are massive and could scarcely be more brutal or barbaric," she said.
UNICEF estimates that 300,000 people have fled fighting between the army and rebel groups since August; both sides have been accused by the United Nations and human rights groups of committing atrocities against civilians.
"In one of the makeshift camps that I visited, a woman told me that soldiers come every single afternoon to rape women and girls as young as 1 year old," Farrow told reporters in Geneva.
Parents refuse to send their children to school for fear they will be forcibly recruited by armed groups or held as sex slaves, she said.
"They told me that what they want the most is protection," she said, adding that United Nations peacekeepers have been unable to stop the abuses.
The European Union is debating whether to deploy 3,000 troops to support the U.N. force in the country, but French President Nicolas Sarkozy said Friday that African troops should be sent instead.
A report by Amnesty International last week said rape is condoned by both the Congo's army and its rebel groups, and has been used as a weapon of war
"Rape as a weapon of war is an understatement," said Farrow.
The actress, who said the situation in Congo was similar to what she had witnessed on visits for UNICEF to Darfur, Central African Republic and eastern Chad, said apathy was to blame for the international community's failure to intercede.
"There isn't enough sense of outrage."
____
On the Net
UNICEF: http://www.unicef.org/