NEWS
Prosecutors seek to link Bemba to murders, rapes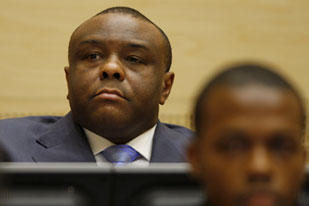 THE HAGUE (AFP) — Prosecutors sought in the International Criminal Court Wednesday to link ex-DR Congo vice-president Jean-Pierre Bemba to murders and rapes blamed on his militia in the Central African Republic.
"Jean-Pierre Bemba and (ex-CAR president) Ange Felixe Patasse entered into a common plan with the intent that crimes be committed," prosecution lawyer Cynthia Tai argued on the third day of a hearing to determine whether Bemba should be put on trial for war crimes and crimes against humanity.
"He is responsible for the crimes charged... as a co-perpetrator."
The prosecution has sought to establish a direct link between Bemba and the atrocities -- carried out allegedly by his rebel Movement for the Liberation of Congo (MLC) -- in the country in 2002 and 2003.
Prosecutors claim Bemba sent his MLC there at the behest of Patasse, to help put down a coup led by general Francois Bozize.
Bemba's lawyers have claimed the case was part of a political conspiracy against him, that his militiamen were bona fide troops deployed to protect a democratically elected government, and that they were under Patasse's command.
But Tai told the judges on Wednesday that Bemba never subordinated his militia to Patasse and remained involved in the operation throughout.
She contended that Bemba sent his men to help Patasse for his own strategic purposes in order to retain control of the border area between the Central African Republic and the Congolese province of Equateur in the war between his rebels and then DR Congo leader Laurent Kabila.
Bemba, 46, was arrested on an ICC warrant in Brussels last May.
He faces five charges of war crimes and three of crimes against humanity for rape, torture, looting and murder allegedly committed by his MLC movement.
After a years-long civil war in the Democratic Republic of Congo, Bemba became one of four vice-presidents in a transitional government ahead of landmark 2006 elections in which he lost the presidency to Kabila's son, Joseph.
Bemba led opposition to Kabila until March 2007, when government forces tried to disarm his private militia in clashes that killed 300. He went into exile the following month.
The court will rule within 60 days whether he will stand trial.
© Congo Vision

---
Prosecutor: ex-Congo VP used rape as weapon
By ARTHUR MAX – 2 days ago
THE HAGUE, Netherlands (AP) — War crimes prosecutors accused former Congolese vice president Jean-Pierre Bemba on Monday of using systematic rape to terrorize civilians suspected of supporting rebels during a bloody power struggle in neighboring Central African Republic.
Defense attorneys argued that Bemba's troops were not under his command once they crossed the border, and that the prosecution failed to show that Bemba ordered his men to commit atrocities during the upheavals of 2002-2003.
The two sides outlined their arguments at a pretrial hearing at the International Criminal Court meant to assess whether there is enough evidence to put Bemba on trial. Judges scheduled four days of hearings, then have 60 days to decide whether to commit him to trial, seek more evidence or let him go.
In an opening statement, deputy prosecutor Fatou Bensouda previewed graphic testimony from one man who said he was sodomized in front of his family, then was forced to watch his wife and children abused.
"Bemba wanted to traumatize and terrorize the civilian population so they would not support the rebels," Bensouda said. "He chose rape as his method."
Bemba, founder of the Movement for the Liberation of Congo, is accused of eight counts of war crimes and crimes against humanity, including torture and murder, during a five-month conflict that began in October 2002.
The charges stem from the 2002 request to Bemba by the then-president of Central African Republic, Ange-Felix Patasse, to help put down a coup led by his former army chief of staff, Francois Bozize. The coup succeeded and Bozize, now president, asked the International Criminal Court in 2004 to investigate the actions of Bemba's militia.
Patasse was mentioned as a coconspirator in all the charges, but he has not been publicly indicted. He has been living in exile in Togo.
Defense counsel Karim Khan shifted any blame to Patasse, who had command of all forces in Central African Republic.
Khan said Bemba sent his forces to defend an elected government, and they then came under the control of that regime. He compared the intervention to the deployment of United Nations troops, which are no longer under the command of their home armies once they don blue helmets.
Bemba, 46, is the most senior political figure to be brought before the world's first permanent war crimes tribunal since it began work in 2002.
He was arrested in Belgium last May and extradited to The Hague in July.
Prosecutor Petra Kneuer said Bemba sent two battalions into the field, between 1,000-1,500 men. She said they continued their crimes even as they were withdrawing when it was clear Patasse had lost power.
"After they left, the civilian population was left with nothing: no possessions, no community, no dignity," Kneuer said.
She cited one witness who saw trucks piled with looted goods and carrying eight half-naked women who were later "repeatedly raped in full public view."
A university graduate and former chief executive of several companies, Bemba ruled a vast chunk of northeastern Congo as a warlord and rebel leader during that country's 1998-2002 war. As part of a peace agreement, he became one of four vice presidents in a transition government that paved the way for elections in 2006.
Bemba came in second in the heated presidential race behind Joseph Kabila. He was elected a senator, but refused to dismantle his militia, leading to clashes with security forces that left at least 300 dead in March 2007. Facing charges of treason, he fled into exile in Portugal and Belgium.
___
On the Net
---
DR Congo's Bemba accused of rape
Prosecutors at the International Criminal Court in The Hague have accused Jen-Pierre Bemba, a former rebel leader in the Democratic Republic of Congo, of ordering mass rapes.

At a hearing on Monday to decide if Bemba will face trial, the prosecutors said he had used rape to terrorise civilians suspected of supporting rivals in the Central African Republic.
Bemba, who also served as vice-president in DR Congo's post-civil war transitional government, faces three counts of crimes against humanity and five counts of war crimes.

"Bemba's men went from house to house, pillaging and raping mothers, wives and daughters," Petra Kneuer, the prosecutor, said.
The troops were instructed to "traumatise and terrorise" the population to prevent them from supporting any resistance to Ange-Felix Patasse, the Central African Republic president, the prosecution said.
"To do this, he [Bemba] chose rape as his main method," Kneuer said.
A representative of victims told the hearing that a district chief in the capital of Bangui was raped for four hours in front of his wife and children before troops turned to them.

Denial

Bemba's defence lawyers argued that he was not responsible for the campaign of torture, rape and murder between 2002 and 2003 as his Congolese Liberation Movement (MLC) forces were operating under the command of Patasse.

"Uniforms, food and money were all provided to MLC troops, not by authorities in the Democratic Republic of Congo, not by Mr Bemba, ... but by the head of state of the Central African Republic," Asad Ahmad Khan, one of the defence lawyers, said.

After the four-day pretrial confirmation of charges hearing, the three-judge panel led by Ekaterina Trendafilova has 60 days to decide whether to go forward with the trial.

Bemba was arrested in Belgium last May.

He fled DR Congo for Portugal in 2007 saying he feared for his life after his fighters had battled the presidential guards of Joseph Kabila on the streets of Kinshasa, the capital, following his defeat in presidential elections.

The MLC was formed to overthrow Laurent Desire Kabila, Joseph's father and DR Congo's former president, during the 1998-2006 war in DR Congo.